Your shop logo, banner, and more will help create a solid visual brand for your Etsy shop. Your Etsy shop home serves as the visual storefront and is frequently the first impression a potential buyer has of your brand.
A well-harmonized Etsy shop home catches the attention of visitors, inspires consumer confidence, and has the potential to develop long-term customer loyalty. Cohesive and strong visuals will tell the story of what your company and products are all about.
You must first create the fonts, colors, and image styles that agree with your brand's identity, then integrate those elements into the visual story of your Etsy shop. You don't have to match everything in your shop. Each element should complement each other and be a part of a bigger picture you want to convey.
Here are helpful tips on making your Etsy shop home look better and leave a good first impression on your visitors.
Create a Story
Your shop logo and banner may be separate elements, but you can utilize them to reflect your whole brand. These elements should convey to your visitors immediately what your company is all about.
Shop Logo / Icon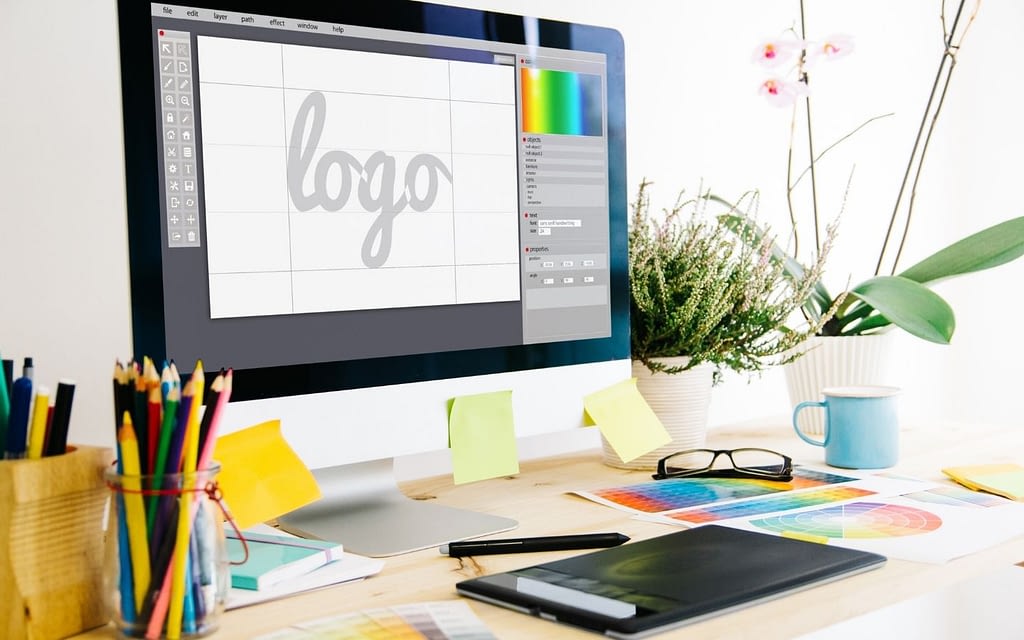 Don't be fooled by its size. The shop logo may be small, but it will represent your Etsy shop across the website. You must select an image that is identifiable and effectively reflects what your brand is all about.
A good shop logo conveys something significant about your brand. Keep it simple, though – you don't want to make your logo look complicated.
You can have it done by someone experienced in graphic design, or you can do it yourself. A great tool you can use is Canva – it's so easy to use!
Design Tips for Logos
Should be recognizable – Your shop logo should be minimal, simple, and memorable. Customers who have purchased from your shop before or have favorited your listings should be able to recognize your logo right away.
Should be easily understood – When creating your logo's graphic, your buyers should understand how it pertains to your Etsy shop.
It should be scaled down – The shop logo will display at full size on your shop homepage (500 pixels x 500 pixels). However, it will be smaller on the Etsy app, receipts or activity feeds. You can preview your logo in various sizes to ensure that it's still clear when sized down.
Prevent too much text as well because, at small sizes, they become illegible.
Shop Banner
Your shop banner is the most noticeable graphic people will see when they visit your shop.
Design Tips for Banners
Get creative – Treat your banner like a canvas. You can experiment with colors, patterns, textures, or images of your workspace.
Design for the appropriate dimensions – Etsy has two size options for banners.
Big banners should be 3360 pixels x 840 pixels, although you can also use a minimum of 1200 pixels x 300 pixels.
Mini banners are excellent if you want your listings and logo as the main focus. The ideal size for a mini banner is 1200 pixels x 160 pixels.
Use text moderately – If you opt to put your shop name, make it large enough to be read on mobile devices. Additionally, keep it centered to keep it legible when the banner is scaled down.
Feature your best photography – Your banner is a great opportunity to show your products. You can do a styled shot that shows your collection. Wouldn't it be nice to see a range of your products come together in one area?
Show major milestones – Your banner is the perfect space to feature gift-giving holidays, seasonal changes, special occasions, and milestones. However, do not change your banner too often.
Make Your Products Shine
Your products are the "main course" of your Etsy shop. The way you display them should be coherent with your shop aesthetic.
Be careful which products to highlight and how you bring together product shots. Bear in mind that every image that appears on your Etsy shop homepage should be consistent with your shop's story.
Eye-Catching Listing Photos
Make sure that your listing photos appeal to your target market and reflect your brand. Customers are more likely to purchase again and share your products when your shop looks cohesive and professional.
Organize Your Listings Well
Etsy allows its sellers to feature some of their listings on their shop homepage. These listings will serve as the "window display" of your shop.
You can select four of your best products that depict the aesthetic of your shop best. This way, you can introduce your brand to your visitors, enticing them to check other products from your shop.
You can also rotate featured listings to spotlight special offers, new items, and seasonal products.
If you are an Etsy Plus subscriber, you can even feature shop sections. This will enable you to highlight seasonal collections, new product lines, and sales.
Your Shop Story
People that go on Etsy prefer to purchase from real people. Seeing the person behind the shop will make them more confident to purchase. Sharing your personal story can inspire loyalty as well.
You can take your customers behind the scenes. Show them how you make your products so they can understand what makes your products special.
Create an Amazing About Section
Filling out the About section is important because it is one place where you can tell the story of your business – how it started, what inspired you to do it, how you make your products, and more. Add images and a video to make it more interesting.
Show Your Face
Include your photo in your Personal Profile section. A friendly photo will assure your buyers that they are purchasing from someone trustworthy and accommodating.
Your profile photo should be at least 400 pixels x 400 pixels. Make sure it's well-lit and clear as well.
However, if you choose not to show your face, you can put a graphic that shows your personality.
After improving your Etsy shop home, expect to gain more sales. Check out the article What You Need To Know About Etsy Analytics to know how to monitor your shop stats.